Pharmaceuticals, Food & Beverages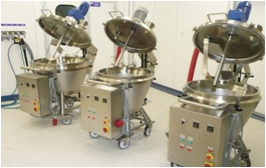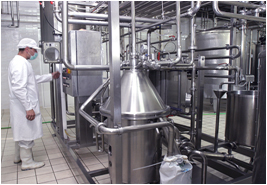 Wide range of Internally & Externally up to 600 Grit Mirror & Matt Finish equipments of foods , Pharma & Beverages industries are manufactured as per process requirement.
Tanks & Vessels

Pressure Vessels
Non Pressure Vessels
Jacketed Vessels
Limpeted Vessels
Movable & Fixed

Volume varies from 50 Ltrs to 50 KL

Shell & Tubes Type Heat Exchangers

With Bellows
Without Bellows

Volume varies from 1 Mē to 65 Mē

Reactors & Agitated Vessels

With Limpet
Without Limpet
With Required Agitated Blades

ANCHOR /MIG/ TURBINE/PITCH
Volume varies from 50 Ltrs to 5 KL

Custom Built Fabrications

As per end users requirement

Vessels with Various Surface Finish

240 Grit Mirror Finish
180 Grit Matt Finish
Sando Flexing
Halar Coating
Anti Static Halar Coating
External PU Coating
Sanitary Finish
Stainless Steel Shot Blasted

Material Of Constructions

All Stainless Steel Series
SS304, SS304L, SS304H, SS316, SS316L,
SS316H, SS321, SS310, SS310S, SS317,
Duplex & Super Duplex ...etc
Noble Metal Series
INCONEL, HASTALLOY, TITANIUM,
COPPER, TANTALUM ... etc.
Ointment Mixing System also available Skid Mounted
Specially Designed Planetary Mixer Vacuum Type for interactive kneading, twisting and dispersing effects.
Our range of planetary mixers can be customized to meet the specific mixing and blending requirement of the customers.
Salient Features
High shearing force compared to conventional mixers
Simple Mechanism & Easy dismantling for cleaning
Maintenance Free AC Motor Drive
Scrapper blades ensure uniform mixing
Homogeneous mixture is achieved by Planetary motion of the beater of Impeller.
The Double wall construction ensures circulation of fluids for Heating & Cooling Application
The material of construction is optimized by selection of contact and non contact parts.
The skid is usually mounted on superior Castor Mechanism.