Oil-Pre Heaters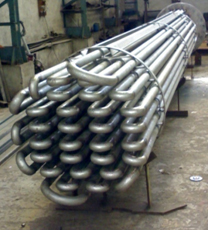 These are high pressure & high tempreture Shell & Tube type Heat Exchangers.
Generally they are tubes are low carbon contained and of 12 mtrs long without any joints. Special U bends are to be manufacture depending upon the flow of oil. Material of Shell portion depends on requiremnt either SA240 Gr 304 or SA240 Gr 316.
Body Flanges are also made from Stainless Steel Grades.